Pro tips for cleaning your windows will make the task much easier. As a homeowner, you know how much better your home looks when the windows are clean. Experts say you should clean your window at least twice a year but if you have beautiful windows and you learn how to clean them effortlessly, I think you'll agree cleaning them more often is ideal. Here are pro tips for cleaning your windows in a nutshell:
Use the Right Equipment
If you're like most people you have been cleaning your windows the wrong way for a long time. Good news is you can use less elbow grease, no paper towels and get rid of the spray window cleaner. Pros who clean windows for a living often use just a few simple items.
A squeegee to fit the window size A
A sponge or wand sponge applicator
Dish soap (just a drop or two) and water
Linen clothes, diapers or lint free rags
If you need an extension pole to reach the entire window make sure you get one. Having a small squeegee or sponge applicator can lead to back pain and more work. Too large of a handle is also a problem.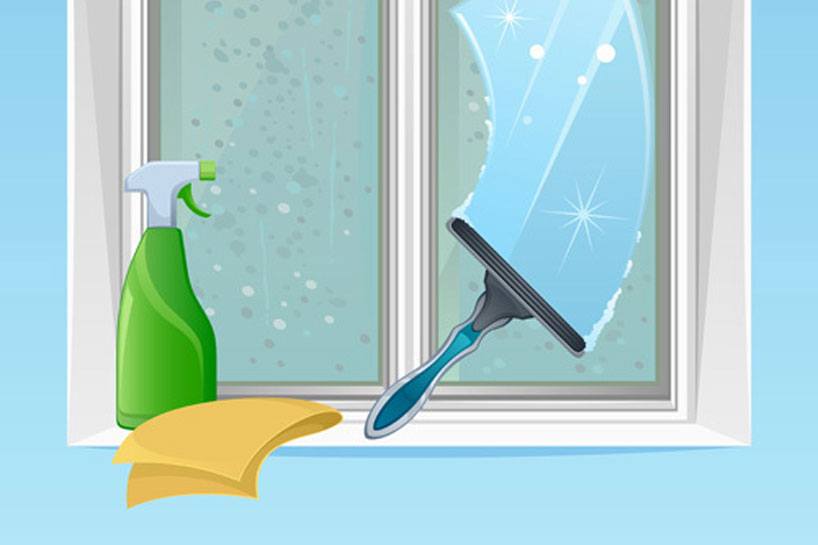 Cleaning Large Windows
Large windows get dirty quickly. You will find cleaning them a breeze when you use our pro tips for cleaning your windows. Start by using a wand sponge or similar sponge applicator to cover the windows with the cleaning solution. You don't need a lot of bubbles and soap to get a clean look. Once you have the windows wet, allow them to sit for a minute or two then scrub the windows lightly to loosen the dirt. Now use your squeegee to remove the soapy water. You'll start with a figure S at the top of the window and work your way down. Clean the squeegee off when it gets too wet to avoid leaving a streak. Remove water in the window edges and corners with a good absorbent rag. Once the windows are clean use your linen rag to dry the windows. Now step back and enjoy the view. Clean windows don't require a lot of hard work or a big mess.
Cleaning Small Panes Windows
If you have windows with muntin bars separating the sash into a grid of tiny panes, you may feel like there is no easy way to wash your windows. Going back to the supply list, you need to make sure the equipment you use is the correct size for the window. This makes the job of cleaning your windows easy. The squeegee you use should be about ¼" smaller than the windowpane. Use a hand sponge to apply the soap mixture. Make sure you use a circular motion and try to loosen dirt on the muntins themselves. Squeegee the pane with a downward stroke and dry your windows. It's as simple as that.
Examine Your Windows
When you clean your windows you have a good opportunity to examine how they are holding up. Older windows may need repaired or replaced over time. Insect damage and weathering can all have an ill effect on your windows. Gilkey Windows of Lexington can give you advise on repairing or replacing windows. Call 859-294-9393.